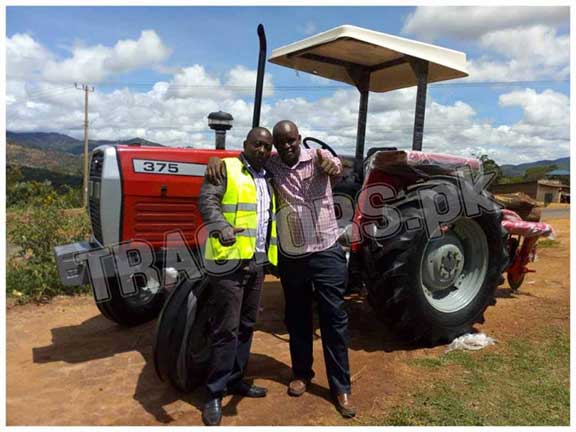 All farmers can agree on the fact that tractors are essential for the accomplishment of everyday farming activities. Most farms cannot go a day without the use of tractors and farm implements.
Massey Ferguson tractor suiteable for your farm in Nigeria
A good quality tractor is an investment with guaranteed returns. When a farmer invests in a brand new tractor, he can be sure to reap the benefits of his investment. A Massey Ferguson tractor is a reliable farm machine with a long history in the field of agriculture. African farmers prefer Massey Ferguson over most tractor brands due to its longevity and impressive performance.
A Massey Ferguson tractor serves a variety of purposes owing to its outstanding technological features. It is available in multiple horsepower ranges that serve various farms according to their sizes. Small farms in Nigeria can invest in compact or utility Massey Ferguson tractors along with different farm implements to perform operations like harvesting, cultivating, ploughing, etc.
The quality of a tractor is rated according to its design, warranty, construction, efficiency, etc. Various models of Massey Ferguson tractors have proven their versatility over the years. Some tractor models like the Massey Ferguson MF-375 are especially popular with African farmers due to their proven efficiency. These tractors come with a two-year warranty which is a plus for farmers.
Advanced technology features in Massey Tractors
The engine of a Massey Ferguson tractor is constructed using advanced technology for efficient performance. Its turbo engine and four-valve cylinders ensure the smooth running of tractors while meeting the highest international standards for emission. Its engines also feature clean air technology for a reduced greenhouse impact. Its distinctive SCR technology lets you experience optimum performance while consuming minimal amounts of fuel.
Mechanization in Nigerian agriculture
Nigeria highly depends on its agriculture sector for its citizens' livelihoods. As the most profitable agriculture sector of Africa, Nigeria's farms have great potential for agricultural expansion that can overcome many hurdles like poor tenure system, climate change, low technology, limited financing, and land degradation. By implementing mechanization in their farms, Nigerian farmers can increase agricultural productivity to meet the domestic demand as well as create abundant supply for exports.
Contact Tractors PK reliable tractor dealers in Nigeria
Nigerian farmers can contact Tractors PK. reliable tractor dealers to get their hands on an efficient Massey Ferguson tractor like the MF-375 which is a bestseller in Nigeria due to its affordability and efficient performance. The tractor dealers in Nigeria will hook you up with a brand new Massey Ferguson tractor or a used one of your choosing, depending on your farm size. You can also purchase good-quality Massey Ferguson farm implements. The tractor dealers in Nigeria with their expert knowledge and experience will guide you in choosing the right farm equipment for your farms. You will be able to secure an affordable deal with quick service, as well as 24-hour customer support.