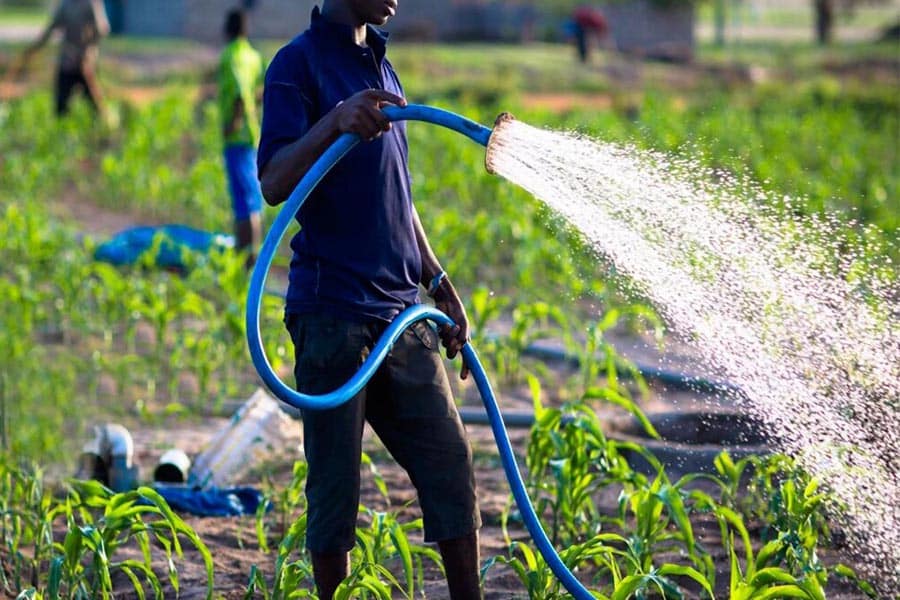 Despite Ghana's wealth of water for irrigation farming, the results of the country's mismanaged and unchecked irrigated agricultural techniques, along with its lack of agricultural machinery, leave much to be desired. The government of Ghana has implemented development plans and strategies to boost irrigated agriculture as a result of the growing recognition of irrigation issues and their impact on the economy and environment. To encourage cooperation and partnership among irrigation industry members for the sake of advancing environmentally responsible irrigated agriculture, a formal institutional structure was designed. But even with irrigation, conventional farming is more productive. For instance, low crop performance may be traced back to a lack of foresight, and inter-organizational coordination has proven challenging. In this piece, we will look at some of the ways in which Ghana's irrigated agriculture may benefit from some new approaches.
Major irrigation challenges
Despite widespread use, northern parts of Ghana have more difficulties in the area of irrigated farming. Tono and Vea irrigation systems, the two biggest in Ghana, are situated in the north, giving access to water for agricultural growth and boosting the socio-economic life activities of many farmers. Financial insufficiencies, institutional challenges, limited access to inputs and services, difficulties in marketing and post-harvest handling, lack of cooperation, and disagreements between the government and landowners over compensation have emerged as the most pressing issues affecting irrigation in Ghana. Poor maintenance of canals, weeds, and sludge around canal networks are only a few of the issues plaguing Ghana's irrigation system. Given the current difficulties farmers face, such as low farm income and production, it would be difficult for maintenance to be left solely in the hands of farmers if the government did not provide the primary headwork, conveyance, and distribution infrastructure for irrigation development in the country. As a result, several of the plans have been completely abandoned and have since collapsed.
Inadequate and antiquated irrigation equipment and mechanization are major obstacles to the development of sustainable irrigated agriculture in Ghana. The land and water are not safeguarded by the conventional form of irrigation used in farming. Irrigation water for crops comes from rivers and wells drilled into river beds. These methods lower water tables during dry periods and severely pollute groundwater with fertilizers and pesticides that seep deep into the soil. Meanwhile, Ghana's Environmental Protection Agency (EPA), water and sanitation agencies, and municipal governments all have roles in keeping the environment safe.
Relevant Policies and Irrigation Schemes in Ghana
In response to the shortcomings of the first Food and Agriculture Sector Development Policy (FASDEP I), which prioritized the private sector at the cost of low-income farmers, FASDEP II was enacted. To better manage land and environment sustainably, employ science and technology in food and agriculture development, and promote competitiveness and integration into local and worldwide markets are all goals of agricultural policy for the food and agriculture industry.
What this means for the future of irrigation depends on the nation's water policies. As part of its new strategy, the government of Ghana will make sure that farmers have access to high-quality water in appropriate quantities. In addition, the government of Ghana formulated the national land policy in 1999 to ensure the country's continued responsible management of its land and its inherent resources. The policy backs economic and social initiatives that are eco-friendly and adhere to the principles of sustainable resource management. The State Lands Act is a legal requirement for all irrigation projects, no matter how big or little.
Alternative Practices
Due to the high cost of operating, solar irrigation has not garnered much interest from Ghanaian governments or farmers. To help make renewable energy more accessible to farmers, solar-powered irrigation pumps are being built in Tamalgu in the Karaga District. However, this program is not prevalent across the nation. Most public irrigation projects that rely on a pressurized system are experiencing dry spells owing to a lack of energy. This means that non-resistant crops will be wiped out during the dry season, while resistant crops will begin to wilt and die off.
It will be preferable if irrigation water management is approached with an active role for extension agents and the implementation of appropriate technologies. In the past, on-farm water management programs had failed because of a lack of support service to farmers, but now, due to improvements in extension agents' abilities, they are able to effectively aid farmers in the areas of irrigation development and management. Effective irrigation management relies heavily on high-quality extension and consulting services supplied by the government, commercial businesses or consultants, non-governmental organizations (NGOs), or farmer organizations. There is evidence that when incentives, technical knowledge, and water information are provided as part of regular capacity development initiatives for irrigation stakeholders, they perform well. It is difficult to assess the development of irrigation projects due to the office's inability to keep track of vital information.
Role of Tractors PK
Agricultural machinery, in addition to the good irrigation system, also plays an important role in enhancing the agricultural yield of Ghana. Tractors PK was established to help Ghanaian farmers get their hands on affordable, high-quality agricultural machinery. With the introduction of Tractors PK, the country's poor farmers may rest a little easier. Farmers are optimistic about the project's future prospects since they have access to several types of agricultural machinery, such as Massey Ferguson tractors for sale, New Holland tractors for sale, farm implements, combine harvesters, and many more.