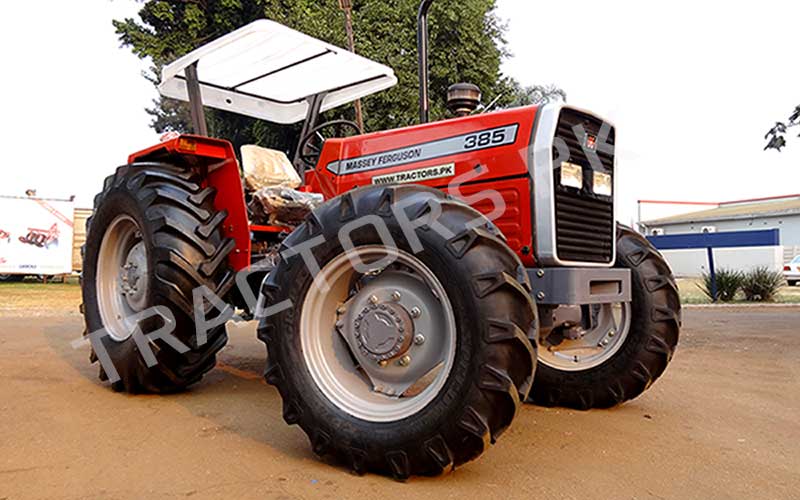 A Massey Ferguson tractor is nothing short of a powerhouse when it comes to agricultural equipment. These high-power tractors are used for performing multiple farming tasks and have made farmers' lives easier. Massey Ferguson has a global fanbase due to its unparalleled durability and efficient performance. African farmers rely on its consistency and versatility for their day-to-day farming tasks.
The MF 385 4WD Tractor Specifications
Among many of its star tractors, the MF 385 4WD tractor is a fairly popular purchase. It is a stronger option as compared to a 2WD tractor owing to its enhanced traction power. This fuel-efficient tractor is capable of lifting up to 20 tons in one go. Its excellent features are a steal at the price it is offered for. The MF 385 4WD is an eco-friendly tractor that emits lesser gases. It operates on a diesel engine that has a horsepower range of 85. It features an oil cooler, a hydrostatic power steering, a multi-disc brake system, and a spring suspension seat. Its Perkins engine runs at a maximum speed of 2200 rpm. It has a dual-clutch and a sliding spur transmission with eight forward and two reverse gears. The MF 385 4WD has a fuel capacity of 108 liters.
Botswana's unfavourable climate situation can benefit from the use of tractors
Botswana has low soil fertility and variable rainfall which has lowered the country's agricultural potential to a large extent. The country is suffering from food insecurity and a poor natural resource base. In cases like this, agricultural equipment can be of great help in order to maximize the country's agricultural yields.
Massey Ferguson tractors are a good fit for Botswana's farmers
A powerhouse tractor like the MF 385 4WD can come in handy for Botswana's farmers in times of despair, as it is a pocket-friendly option that provides double optimum performance. Farming equipment is known to improve agricultural productivity to a great extent. Countries like Botswana that suffer from unfavorable climates can benefit from agricultural mechanization which has proven benefits. Agricultural mechanization means using farm equipment like agricultural tractors and farm implements to perform daily farming tasks. This results in timely harvests, minimum wastage of crops, and weed prevention. The Massey Ferguson tractors are an investment worth making as they are long-lasting and require minimum repairs and aftercare. A brand new Massey Ferguson tractor is bound to change the fate of an African farmer by increasing agricultural production and resulting in food security and self-sustenance. Our tractor dealers in Botswana are equipped with the necessary information that will assist you in choosing the right tractor for your particular farming needs. Our tractor company in Botswana deals in the best tractors for sale, as well as a number of farm implements for sale. All you have to do is get in touch with our team to get yourself a brand new Massey Ferguson tractor for sale in Botswana.