Because of the high expense of hired labor, tractors and other agricultural machinery may be especially important for big farms in communities with both large and small farmers. Because of the economies of scale that come with purchasing agricultural machinery and tractors, mechanization is becoming more popular on farms of this size. As a consequence, bigger farmers in Botswana are more likely to be the first tractor owners, and they often rent their tractors out to smaller farmers who don't have their own.
Labor Saving Effects of the Mechanization
In most cases, the amount of time spent weeding and harvesting may be reduced by a small percentage due to the use of mechanized plowing. When the cost of hired labor rises to a point where it constitutes a significant portion of overall production expenses, even the smallest farmers begin to seek mechanization technology in order to cut their labor and total production costs. Despite the fact that mechanized land preparation decreases work for this process, it does not necessarily lessen the need for labor as a whole. When comparing fields plowed by farm implements and tractors to those plowed by draught animals, we find that although tractor plowing reduces the work input for plowing, it increases the labor input for weeding, harvesting, and threshing. Since weeds tend to recover more slowly in fields plowed by tractors, farmers may often save labor for weeding and land preparation by using tractor-based mechanization. As a result, it is probable that farmers' bottom lines will improve as a result of mechanization. In part because of this labor-saving feature, mechanization has lately gained popularity among Botswana's smallholders.
Demand for tractors
Power tillers, which typically have 20 horsepower or less, are in demand because they are more maneuverable and can be used to their full potential in systems with small landholdings, they are less expensive than 4-wheel tractors, they have the potential for off-farm use, and they are suitable for wet paddy. Many mechanization advocates have pushed for the promotion of 2-wheel tractors in Botswana, mostly for the first three of these reasons, even though they are seldom used unless when governments actively support them. 2-wheel tractors, on the other hand, are often thought to be difficult to apply across much of Botswana and are not ideal for traditional tillage of dry, heavy soils. These elements aid in explaining why they have rapidly increased in irrigation projects in Botswana. Contrarily, 4-wheel tractors are more often used than 2-wheel tractors, generally for crop rotations including both rice and crops other than rice.
Demand for mechanized harvesting
Mechanized harvesting is possible with the use of combine harvesters of varying sizes, which harvest and thresh the grain. Despite its relative rarity, mechanical harvesting seems to be on the rise in several areas, particularly wheat and rice irrigation systems. When the smallholder's opportunity cost of labor during threshing is factored in, as well as the potential crop loss associated with hand harvesting and threshing, the combined harvester service becomes more appealing and, in some cases, less expensive than a traditional labor.
Import of agricultural machinery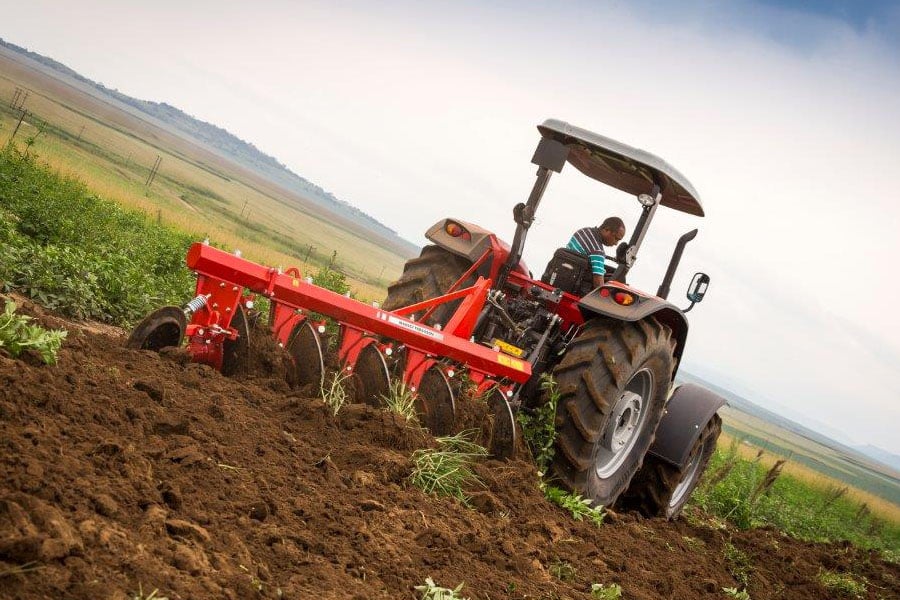 Botswana relies nearly entirely on imported tractors, farm tools, and combine harvesters since the continent lacks the ability to produce them. This means that brands like Massey Ferguson tractors in Botswana and New Holland tractors in Botswana dominate the market. Botswana's mechanization patterns mirror those of the rest of the world's industrial sector. Historically, Europe and Japan have been the main suppliers of agricultural machinery for export. However, in recent years, there has been a rise in the amount of agricultural machinery imported from other nations. Substantial state R&D or consumer subsidies are typically provided for agricultural machinery production in countries like Pakistan. One of the most trusted tractor dealers in Botswana, for new and secondhand tractors and other agricultural machinery, is Tractors PK, a private importer. Private importers like Tractors PK supply spare parts for the brands they sell and offer repair services after the sale. Private dealers rely heavily on government institutions and government/donor-funded initiatives; however large-scale commercial farms and plantations also make up a significant portion of their clientele. Due to the high price and unfavorable financing options, new imported agricultural machinery is typically out of reach for small-scale farmers.