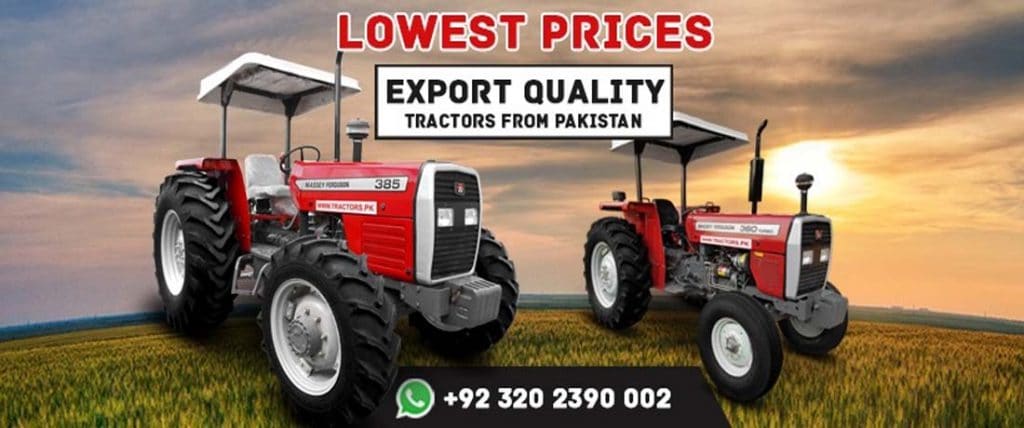 There are several verified tractor dealers in Ghana that are dealing in brand new and used tractors and farm implements for sale. These tractor dealers offer a variety of tractor brands including Massey Ferguson, John Deere, New Holland, Ford, Kubota, etc.
Massey Ferguson tractors in Ghana are a trustworthy brand of tractors and the choice of most Ghanaian farmers due to their durability and long-lasting performance. These utility-size tractors perform better than most brands' high horsepower tractors. These can be bought used or brand new at all tractor companies in Ghana.
Affordable and high-quality tractors
The tractor dealers in Ghana offer reasonable prices on tractors, keeping in mind the budgets of small-scale farmers. They import their tractors from Pakistan that can take up to 5 weeks to reach Ghana. Their specialized teams oversee the shipment procedure thoroughly so that there is no room for mistakes. These tractor dealers in Ghana provide thorough assistance and guidance to farmers until their tractors reach their doorstep. They also offer 24-hour customer support and a warranty. They deal in spare parts of the tractors they supply so that Ghanaian farmers are less likely to encounter any problems later on.
Brand new and used tractors
As the tractor dealers in Ghana offer both new and second-hand tractors in compact and utility ranges, their prices are quite reasonable for Ghanaian farmers. In case, one cannot afford to invest in a brand new tractor, you have the liberty to invest in a pre-owned one instead, and turn your mechanization dreams into a reality, while staying within budget.
The tractor prices can start from around GHC 20,000 and can go up to GHC 180,000, depending on the tractor's condition and engine horsepower. For example, a brand new Massey Ferguson 385 4WD tractor can cost around GHC 180,000; a used John Deere can cost GHC 600,000; a brand new Ford 3000 tractor can cost around GHC 22,000. The prices depend on the make of a tractor, its condition, and engine power.
2WD and 4WD tractors
It should also be noted that certain four-wheel drive tractors are costlier than two-wheel drive tractors. The difference between a 2WD and a 4WD tractor is that the latter is safer and offers a more controlled driving experience in rocky terrains. They also provide double the traction as compared to a 2WD tractor. They may be more expensive, but are long-lasting and cost lesser to maintain in the long run, as they require less frequent servicing. A 4WD may cost higher initially but it proves to be far more economical in the long run.
Choose a tractor according to your needs
It is up to a farmer to decide which tractor to invest on, as per his budget, farm size, and soil conditions. One can also choose to invest in a second-hand 4WD tractor instead of a brand new 2WD tractor at the same price range if that is what he wants. In the end, it all comes down to the individualistic needs of farmers.
To invest in a tractor of your choice, you can check out the websites of top tractor dealers in Ghana, like Tractors PK, CarJunction Tractors, Massey Ferguson Ghana, etc. Send them an online enquiry for your desired tractor and their sales representatives will get in touch with you shortly.