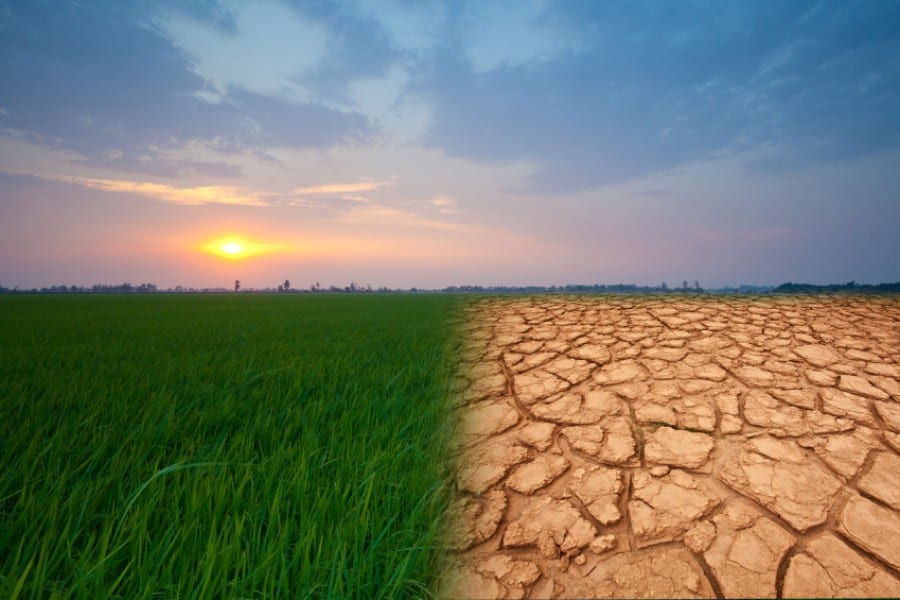 More than half of Ghanaians are directly or indirectly employed in the agricultural sector, which plays a significant role in the country's economy by ensuring its people have access to nutritious food and generating revenue. With its dependence on rain-fed agriculture and susceptibility to drought, Ghana's agricultural industry is particularly vulnerable to the effects of a changing climate. The majority of farms in Ghana are owned by small families and rely on rain-fed agriculture, making the country vulnerable to climate change. Understanding the potential impact of climate change on Ghana's agricultural industry is essential for making preparations to deal with it. Unpredictable and varied rainfall, higher temperatures, and longer dry seasons are only some of the ways in which climate change is affecting Ghana's agricultural sector.
Changes in the yields of the most important food sources
This strong and non-stationary variability among chosen food crops was seen in northern Ghana, where production trends differed greatly across different types of these crops. That means yearly rain-fed crop yields followed the same pattern as precipitation fluctuations. As opposed to other crops, rice is grown using a combination of rain and irrigation. Thus, it is anticipated that the district with the most readily available irrigation for rice farmers would have the best output overall. For instance, farmers may need to use adaptation methods like irrigation more quickly if the advent of rainfall is delayed and the number of dry days increases. However, only a tiny fraction of farmers in Ghana actually use irrigation, despite the fact that it is the single most effective adaptation method for mitigating the effects of climate change and variability.
The development of high-yielding and weather-resistant crop types may account for the recent increases in millet and maize production. Increased agricultural variety is critical for sustainable food production in Ghana, as seen by the country's widespread use of many maize and millet cultivars. Because of their genetic variety, crop types may respond to and even benefit from shifting climates and other environmental factors by becoming more hardy and resistant to things like heat, drought, pests, and parasites.
Interventions to cope with climate change's effects
Over the course of many decades, farmers have been adjusting to the inevitable changes in precipitation and average temperature. Farmers in northeastern Ghana have diversified their crop and animal holdings, increased their use of irrigation, and expanded into nonagricultural revenue sources in order to better their economic situations. Institutional support for adaptation is a key factor in farmers' capacity to deal with predicted changes in rainfall and temperature. Institutional aid must take into account the needs of both men and women farmers. Because the negative effects of climate change on agriculture will be perceived unequally throughout the nation, it is crucial to include farmers' perspectives in adaptation planning. Adaptive capability is predicted to vary between agroecological zones and within families due to resource disparities such as lack of proper agricultural machinery, tractors and farm implements. Females, like males, have agency and valuable information that may be used to design and implement climate adaptation interventions and to address the negative effects of climate change on food security and family well-being.
Farmers' capacity to adjust to climate change effects and dangers is crucial to adaptation. Their socioeconomic status affects their adaptability. Assistance might come from the government, NGOs, and other agricultural players such as Tractors PK as it is one of the top tractor dealers in Ghana. The provision of community irrigation systems, funding for research institutes to produce climate-tolerant crop varieties, providing proper agricultural machinery, agricultural insurance, capacity-building for farmers, chances for secure income, and credit and extension service are all examples of this kind of assistance.
How Tractors PK could help?
Tractors PK is a supplier of farm implements and other agriculture machinery such as Massey Ferguson tractors for sale, New Holland tractors for sale, combine harvesters, etc. to farmers in Ghana. Tractors PK could be able to help the smaller farms in Ghana to get their hands on tractors at costs that are more affordable to them. Tractors PK offers reasonably priced agricultural machinery and other farm implements in Ghana, which may be useful for small-scale Ghanaian farmers. These farmers in Ghana can now kick back and take pleasure in their jobs thanks to Tractors PK.