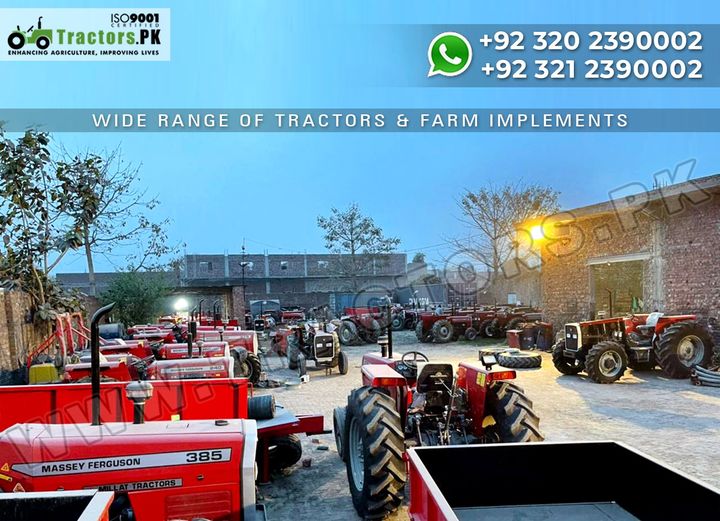 Rural change in Togo is increasingly dependent on agricultural mechanization, which is often referred to as the utilization of agricultural machinery and animal power to undertake activities such as plowing, threshing, and harvesting. Due to rising urbanization and the resulting rise in people moving to cities or working in rural jobs other than farming, Togo's agricultural system is becoming more stressed. Consequently, Togo's farmers have shown higher interest in additional automation as a consequence of this. A variety of factors may be to blame for this increased urge for automation, including the following:
The market demand for agricultural products such as grains, which need more labor than other crops due to rapid urbanization, rises;
Farmers in Togo formerly used tractors for land preparation, but this practice has been replaced by the rise of medium-sized farms. However, the number of medium-sized farmers who own tractors has recently increased. Using tractors, these farmers may not only expand their fields but can also provide plowing services to other farmers in the vicinity;
Due to issues such as growing rural costs and seasonal labor shortages, smallholders' demand for automation has intensified in recent years. Tractor plowing services make it possible for many smaller farmers to successfully plant their crops on time;
The rise in the number of medium-sized farmers who own tractors has resulted in the development of a private market for the employment of mechanization. Those who own tractors are able to make the most of their assets while also helping farmers who cannot afford their own tractors. These markets seem to be the most successful option for delivering mechanization in Togo based on the most current statistics.
Although the mechanization market in Togo is still developing, the government must step in to prevent the inevitable failures of the market. People who would want to purchase a tractor in Togo but cannot afford it because of a lack or non-existence of credit markets may not be able to do so. It is because of this that private banks are often unwilling to lend money to farmers in order to acquire agricultural machinery because of the difficulty in registering collateral in many land tenure arrangements. Tractor owners may not have the knowledge and experience to connect with potential clients, which increases the danger of a tractor purchase. In order to enable the development of agricultural machinery that is more compact and better fits the needs of the local area, the Togo government might give financial support for research and development. Despite the fact that smaller equipment is often less costly, buyers, private dealers, and small-scale farmers still need to be able to operate and maintain the agricultural machinery. It is also possible for the government to cut import duties on replacement parts and to promote adaptable farm implements for sale that enable tractors to do other activities in addition to plowing.
Agriculture in Togo
Generally speaking, the soils of Togo are considered fairly fertile (maize is grown on most of them). When it comes to cultivating crops, the Kara region has a reputation for being tough because of the region's rocky geomorphology. Togo's agricultural sector gets just 2% of the country's bank loans in 2019, and the sector's lack of funding and technical assistance is a major problem (only 25 percent of farms receive technical support of monitoring structures). As a result, just 16 percent of the farms employ fertilizers, and over 90 percent of the farmed fields are still utilizing outdated agricultural machinery (hoe and cutlass). Another factor to consider is that there is a wide variation in yields from one place to the next. This area is at risk from a decrease in forest cover and an increase in land pressure. Togo's government has made a deliberate effort to modernize the agricultural sector in addition to boosting productivity. Farmers' access to funding for greater agricultural production has been expanded through introducing agroforestry methods, enhancing agricultural research, increasing the use of agricultural machinery, automation and fertilizers, strengthening agricultural value chains, and facilitating the rise of agripreneurs.