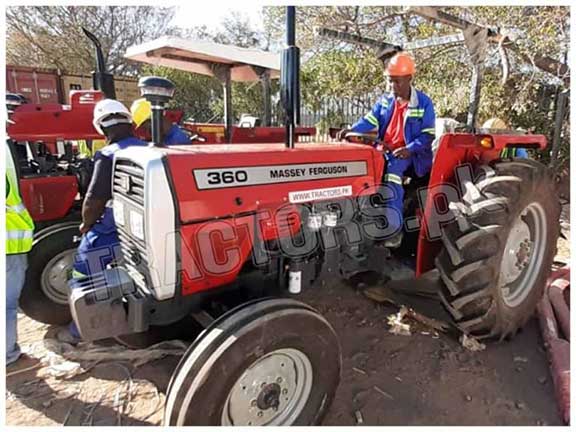 The increase in the demand for durable and optimal tractors is evident in Nigeria as the rapid growth in the agriculture business becomes quite noticeable lately however how to find a premium quality tractor that goes well with the demand and requirements of the business remains a big question even to this date. To say nothing of, a right tractor for the agricultural business is the first step towards a lucrative start since it helps in reducing the additional cost and focuses more on the remunerative activities; however, it is still a hassle to go through all the procedures alone especially when you have little to no knowledge about the versatility of a tractor. In that case, how to find premium quality tractors in Nigeria?
No need to worry because listed below are the top tractor's dealer in Nigeria that provides the most reliable and the finest tractors.
Tractors PK
Tractors PK is one of the leading names among the tractor dealers in Nigeria. They have a wide variety of Massey Ferguson tractors with an amazing range of inexpensive farm implements which allows your tractor to perform several tasks without spending a ton of additional cost. Tractors PK ensures the export of top-notch tractors which are most durable and provide maximum efficiency. Tractors PK is highly recommended all over Nigeria for their flexible rates, good quality tractors, and fast delivery service.
Car Junction
A good quality tractor is a must for good quality production of crops but with so many options available, how to find genuine tractor dealers in Nigeria? Look no further because Car Junction is a trusted name when it comes to the world of agricultural business. They are among the most reliable dealers with the aim of providing the best tractors to their clients. Car Junction is famous for its premium quality, brand-new as well as used Massey Ferguson tractors. They deal with a great range of Massey Ferguson tractors and a wide variety of implements to provide a more versatile and satisfactory service to the farmers residing in Nigeria.
Tractor Corner
Tractor Corner is eminent for its simple yet reliable Massey Ferguson tractors which makes it easier for the farmers to use them efficiently. The main focus of Tractors Corner is to fulfill the requirements of the clients by providing them with the most suitable farm implements. They have compact Massey Ferguson tractors at the most economical prices with easy-to-get spare parts. Tractor Corner is an excellent choice for small-scale farmers since it provides affordable, fuel-efficient Massey Ferguson tractors with so many convenient features.

In a nutshell, it is crucial to have top-quality equipment to sustain the quality of your farm which is 100℅ ensured by the above-stated dealers. They have maintained a good reputation in the market for a long time now and can easily be trusted by the clients for the purchase of convenient and environmental-friendly Massey Ferguson tractors which surprisingly are not only fuel-efficient but also cost-efficient.