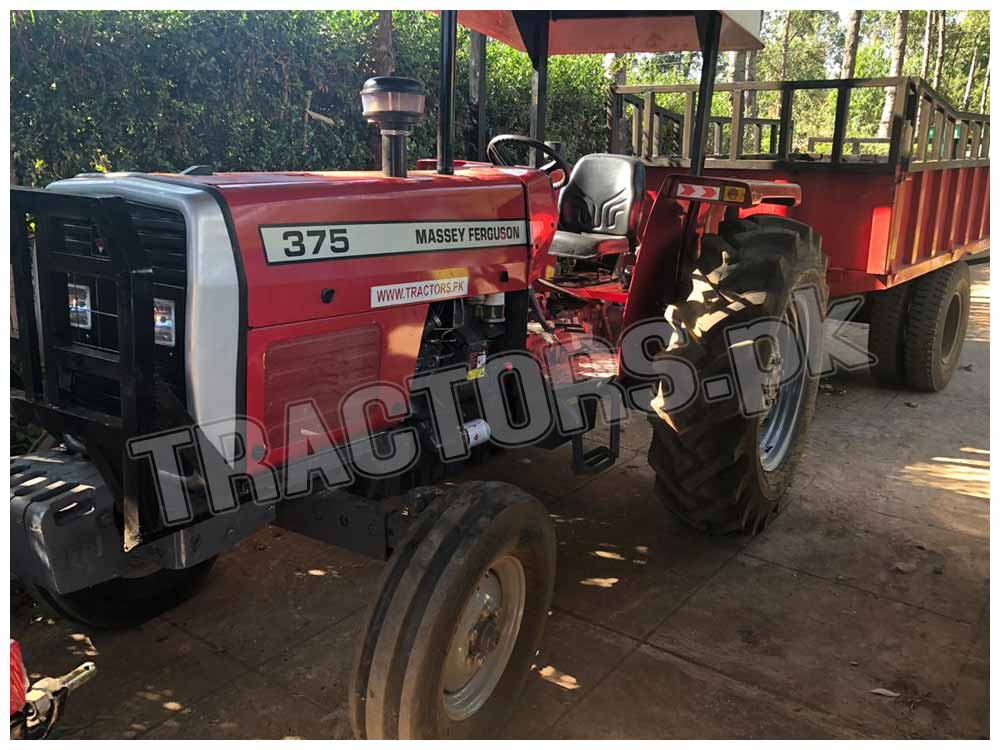 When a farmer is looking for a tractor fit for his farm, he takes into account its efficiency, durability, performance, and convenience. The Massey Ferguson tractors match the standards set by modern farmers and enable them to accomplish their farming goals with timeliness. With a long history in the farming business, a Massey Ferguson tractor sets itself apart as a strong and heavy-duty tractor worth buying.
MF 375 2WD and its impressive specifications
Some of its models stand taller than others, like the MF 375 2WD model, which comes with a hydrostatic power steering, enabling a comfortable and smooth driving experience. This model features a hydraulically actuated multi-disc brake system, with a robust straddle rear axle as well as a heavy-duty front axle. Its high-performance diesel engine comes with four cylinders and a dual high capacity fuel filter. Its engine is a premium, heavy-duty one that promises longevity, no matter how adverse the working conditions may be. This fuel-efficient tractor also features a spacious operator's area and a spring suspension seat.
The MF 375 2WD becomes more productive when used along with farm implements, such as a swinging drawbar, pintle hook, front-end weights, and a sun canopy.
Discounted prices for Kenyan farmers
Massey Ferguson offers this 75 horsepower tractor with an engine power of 2000 rpm at a considerably reasonable price that Kenyan farmers can acquire at. You can get your hands on this tractor along with its compatible farm implements at any reliable tractor company in Kenya.
Traditional farming in Kenya
Kenyan farmers mostly rely on traditional farming techniques with little to no investment in agricultural equipment. This renders their productivity quite low. Kenya's lands are arable and sufficiently fertile, hence they have the potential to garner increased outputs when tapped correctly.
In order to completely benefit from the tea-producing country's fertile soils, farmers must invest in agricultural tractors to boost their annual yields.
Mechanization of farms for better productivity
Privately owned farms in Kenya are highly mechanized and produce export-quality products. The Massey Ferguson tractors are a common name in most of Kenya's private and commercially owned farms due to their impressive performance. The MF 375 2WD tractor of 75 horsepower offers incredible versatility and longevity.
Kenyan farmers who are on a low budget have nothing to worry about, as this tractor guarantees value for money. It performs efficiently and consumes minimum fuel with relatively low maintenance costs. You might mistake this tractor for a higher horsepower one due to its efficiency.
Massey Ferguson tractors are a solid name in the agriculture
The Massey Ferguson tractors feature advanced technology four-valve cylinder engines that meet the Tier 4 – interim emission standards. These tractors also occupy the top spot when it comes to environmental friendliness. Its clean air technology features are something to brag about. The MF 2WD features a great cab design offering convenient space that enhances visibility. If you are a farmer on the lookout for the best tractor for sale in Kenya, then this one is the best option for you. Get in touch with local tractor dealers in Kenya to bring home your brand new tractor.