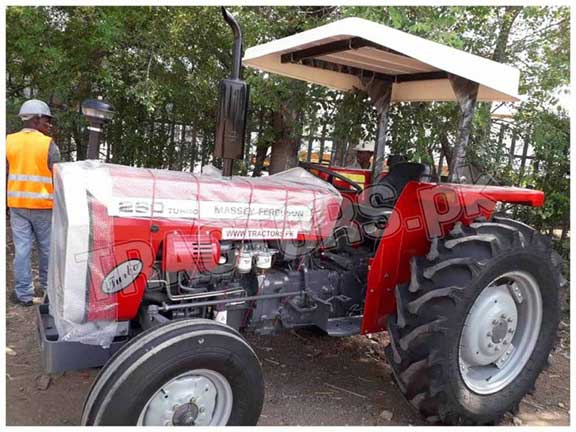 The Massey Ferguson tractors have a long history in the agricultural industry and is one of the few tractor brands that farmers always rely on. The amount of work a tractor performs on a farm is incredible, hence it must be durable from a farmer's point of view.
Massey Ferguson MF 260 2WD and its enviable specifications
Massey Ferguson tractors come in an impressive range of models, but one particular tractor model that African farmers prefer time and time is the MF 260 2WD tractor. With a 60 horsepower range, this is a very economical tractor as it consumes minimal amounts of fuel. It is also an environmentally friendly option as it emits less smoke and minimises operational costs. With a high PTO power, it works smoothly with threshers and tube wells. With a three-cylinder engine, this tractor has 8 forward sliding spur gears and 2 reverse gears. A spring suspension seat, chain stabilisers and check chains are some of its several features.
The MF 260 is a two-wheel-drive tractor that is compatible with several farm implements, such as pintle hooks, hydraulic valves, front weights, nine-hole drawbars, etc.
An economical option
Kenya's small scale farmers have nothing to worry about when choosing this tractor for their farms, as not only is it economically priced, but its spare parts are also easily available at local tractor dealers in Kenya.
It is one of the most economical tractors to grace a farm and comes with manual steering and a diesel engine. The MF 260 can perform all kinds of simple and major tasks on a farm including ploughing, tilling, harvesting, etc. Different kinds of farm implements can be easily attached to it, such as tine tillers, harrows, disc ploughs, etc.
A powerful engine with durable performance
The MF 260 is capable of functioning for up to 18 hours without the fear of heating up due to its powerful engine that comes with a decreased smoke combustion. No matter how difficult the soil conditions may be, this tractor will ensure a smooth and secure driving experience. An affordable tractor for sale in Kenya, with the best position control technology, it is undoubtedly a farmer's favourite, especially in Africa.
Mechanised farming to achieve a better standard of living
Kenya's small scale farmers can simplify their transition from traditional farming to mechanised farming by adding this affordable tractor to their farm inventory. The mechanisation of farms has had a significant impact on annual yields, as production is higher when compared to orthodox methods of farming. Not only has pest and weed control become possible, but higher yields and decreased dependence on manual labour has led to the achievement of self-sustenance, as well as an increase in income. Mechanised farms are able to produce export quality crops.
If you think that this is the tractor for your farm, then get in touch with any reliable tractors company in Kenya and buy a brand new tractor in Kenya.