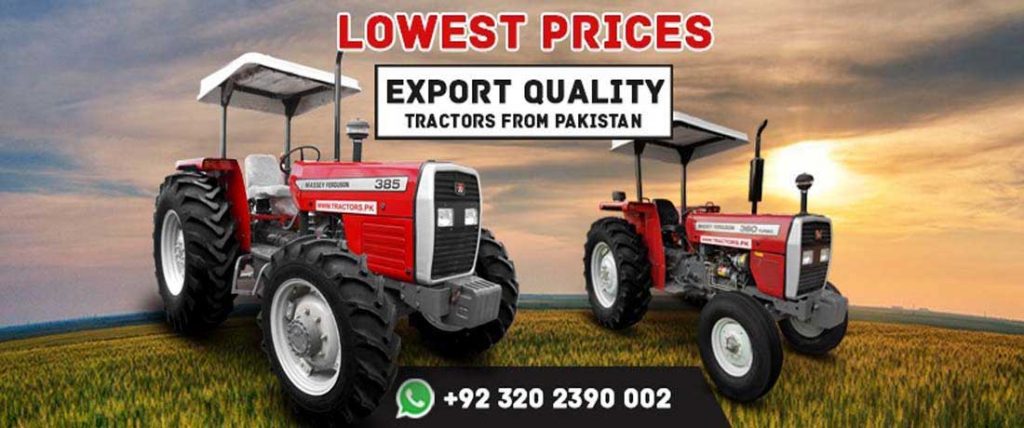 The agricultural sector of Zambia has established itself as the leading employer of the country since it provides job opportunities to a major percentage of Zambia's labor force. About 58% of Zambian territory is considered medium to highly arable land with significant agriculture production.
Mechanization of farms in Africa
Mechanization of farms is being prioritized in most African countries due to many of its proven benefits. Africa happens to be labor-scarce, which has increased the demand for mechanization. Large scale farms are already using tractors to enhance their profits, whereas, small scale farms find it hard to transition to the use of tractors, owing to a lack of finance.
Massey Ferguson tractors at low prices
Massey Ferguson tractors can be of huge help to emerging farmers who want to mechanize their farms using tractors and relevant farm implements, as these tractors come at relatively lower prices.
Since mechanization has had a significant positive impact on smallholder farms, farmers in Zambia can benefit from the multifunctional uses of agricultural tractors. When choosing the right tractor for your farm, one must take into account several factors, which can be as follows.
Type of tractor
One must decide which type of tractor to buy for their farm. Compact utility tractors are small tractors that are mainly used for managing the land and for landscaping duties. A backhoe loader is used for digging, light transportation, etc. A garden tractor performs farming duties with durability as it comes with a robust transmission and a sturdy frame. A utility tractor has a powerful engine and can be used for hauling and diverse farming tasks.
Horsepower range
The other thing one must consider is the horsepower of a tractor. Low horsepower tractors are not built for heavy-duty farming and are rather used for tasks like lawn mowing. Such tractors fall below the 35 horsepower range. One can go for a high horsepower tractor in a small tractor size to get the work done at a lesser cost.
Four-wheel drive
A four-wheel-drive tractor must be prioritized over a two-wheel drive one. This is mainly because when a tractor is operated with a front loader, a 2WD tractor will lose balance, creating unsafe circumstances. Whereas, 4WD tractors have wider tires. This minimizes traction loss and the tractor will turn easily when a front loader is attached.
Tractor Resale value in Zambia
Buying a good brand tractor, such as Massey Ferguson, will ensure a good resale value. If you intend on selling your tractor in the future, then a good quality tractor will ensure a good resale value. The Massey Ferguson tractors are quite popular in the used tractor market.
Buying from a reliable tractor dealer in Zambia
Contact a reputable tractor dealer in Zambia for a rewarding buying experience of your brand new tractor. Inform them of your farming needs, the size of your land, your farming priorities such as field moving or road grading, and your tractor dealer in Zambia will recommend you a tractor model of the right horsepower range and hydraulic capacity.
Budget
Keep in mind how much you are willing to spend on your brand new tractor and look for tractors for sale within that range.
Use of farm implements in Zambia
Do you see yourself using specific farm implements mounted to your tractor? Then figure out what hydraulic capacity you require and whether a 4WD or a 2WD tractor will fit that range.
Temperature control
Does it matter whether your tractor has air-conditioning or heating settings so that you can perform longer in arduous settings? If yes, then look for temperature-controlled tractors, however, such options may cost more.
Transmission type
Consider your preferred transmission type. Some farmers prefer hydrostatic transmission, while others go for used transmissions with clutch and gears. It is worth noting that hydraulic transmissions are more long-lasting as compared to manual transmissions.
Massey Ferguson is the most popular tractor brand in Zambia
Choose a reliable tractor brand and check the kind of warranty it offers. Massey Ferguson tractors, as well as New Holland tractors, are reliable and high-quality tractor brands that offer a generous warranty and durable performances.
Contact Tractors PK a trusted tractor dealer in Zambia for good prices on Massey Ferguson tractors for sale in Zambia.