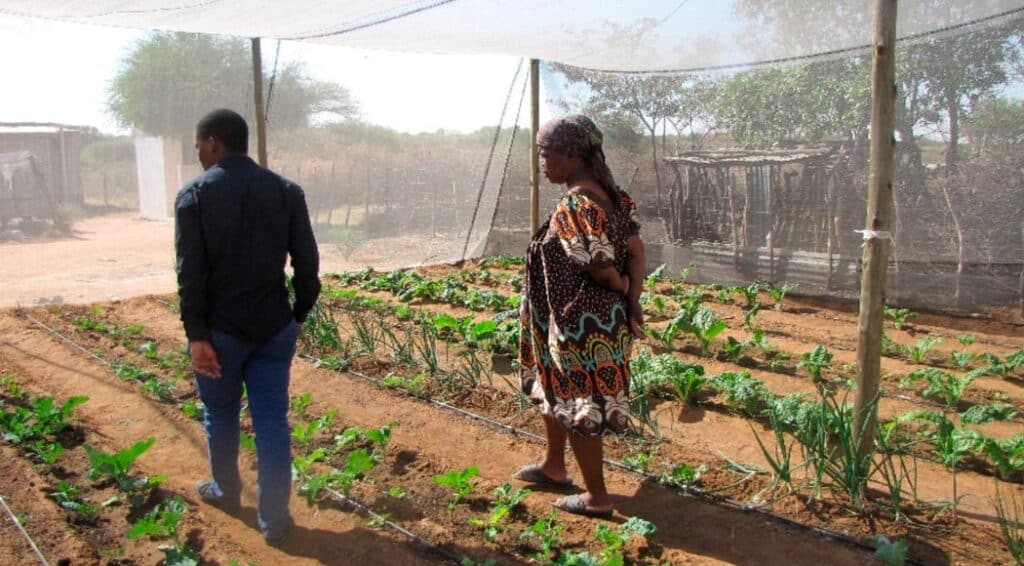 Local farmers in Botswana still rely on an agrarian economy, making them especially susceptible to the effects of fluctuating weather. They do small-scale farming, without proper agricultural machinery, and raise animals for survival. A large portion of rural residents relies on subsistence farming for their income and survival. Both the Okavango Delta and the Chobe River in Botswana are permanent river systems, yet the local people are nevertheless affected by weather changes. This is quite worrying. Some farmers in the area are trying to weather the effects of climate change by using new, more resilient practices. Local farmers' coping mechanisms are often informed by the context of their everyday social interactions. They draw on their past experiences to persevere in subsistence farming despite unpredictable precipitation and periodic flooding. This is augmented by gathering veld products and fishing. In most cases, they cannot market farming without constant aid in growing capacity.
The level of climate change literacy among farmers
Botswana's small-scale farmers learned what they knew via a combination of sources, on-the-job training, personal experience, personal observation and experimentation, and indigenous knowledge. They also discussed the difficulties associated with planting seeds deep below, the damage to crops caused by unpredictable rainfall, the lack of agricultural machinery and the overall poor yields. However, government authorities often fail to notify small-scale farmers about impending droughts or floods. Contacts with higher levels of the organization, such as government organizations, provide access to new information and technology, such as that shown by small-scale farmers. The weather service has not been communicating with farmers about impending rain in a timely manner. It turned out that some farmers were able to rely on their cultural or indigenous expertise. This was shown in the example where farmers blamed deforestation, a major contributor to climate change, on practices that no longer considered traditional knowledge pertaining to taboos.
Different small-scale farmers in the Okavango Delta and along the Chobe River know the ecological, historical, and social elements of their communities in relation to rainfall and farming. Using the community as an integrative environment for learning at all levels, place-based education is founded on the resources, concerns, and values of the local community. Taking this approach helps locals better understand and value their unique cultural and ecological settings.
Farmers' Coping Strategies
It was clear that small-scale farmers in the Okavango and Chobe regions were vulnerable to climate-related shocks and hazards such as droughts, floods, livestock diseases, and declining crop yields. Farmers, whose livelihoods depend entirely on farming, face grave dangers from all of these. There is significant evidence that some of them have developed coping methods in response to these hazards.
Some farmers, drawing on their intimate familiarity with the climate, decided to plant drought-resistant watermelons and millet instead of the more conventionally successful crops. Some farmers, like those in Parakarungu, relied on local traditional knowledge; for example, one farmer learned fishing and blacksmithing from his father via decades of passed-down stories. The other farmer on a lesser scale is likewise making baskets. In most Botswanan villages, this is a passed-down art form. The fundamental concepts of knowledge, competencies, and agency grow and give actual chances for learning within the context of the lived experiences of these small-scale farmers within the framework of place-based education.
Adaptation relies heavily on farmers' flexibility in the face of climate change challenges. The degree to which they are able to adjust is influenced by their socioeconomic level. The government, NGOs, and agricultural companies, like Tractors PK one of the leading tractor dealers in Botswana, all pitch in to help. Examples of this kind of aid include the distribution of coping strategies for communities, the provision of funding for research institutes to produce climate-tolerant crop varieties, the distribution of appropriate agricultural machinery, agricultural insurance, capacity-building for farmers, the provision of chances for a secure income, and the distribution of credit and extension service.
What could Tractors Botswana do?
Farmers in Botswana may purchase tractors from Tractors PK, as well as other farm implements and agricultural machinery including Massey Ferguson tractors for sale, New Holland tractors for sale, combine harvesters, and more. Smaller farms in Botswana may be able to benefit from Tractors PK's ability to provide tractors at reduced prices. Tractors PK is a company based in Botswana that sells tractors and other farm implements at prices that are affordable for small-scale farmers. Thanks to Tractors PK, these farmers in Botswana can relax and take pride in what they do.